no. 17 holiday house Fogarasi
Vonyarcvashegy, Sík utca (show on map)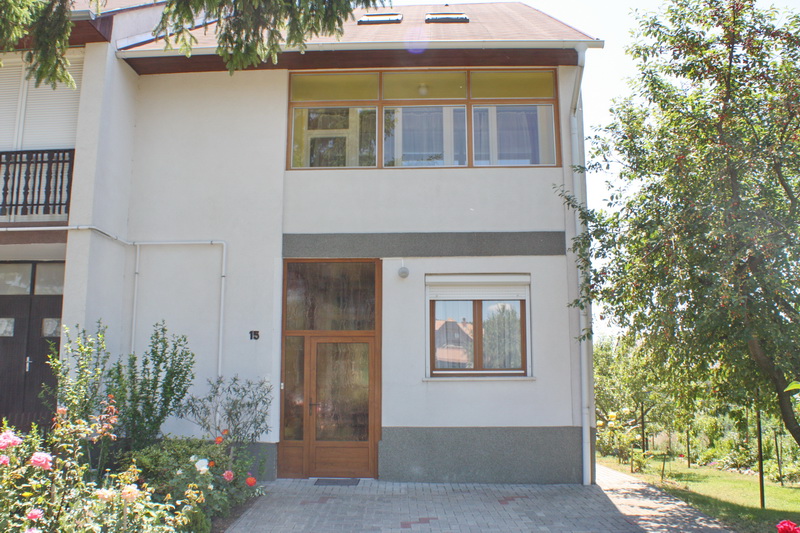 Get price offerOnly 1 minute
+36 83 348-936
46.765925584826, 17.313158576721
Open months: 1. June - 30. September
Nr. 17 House – ideal for 6-8 persons.
Second floor: 2 double rooms, living room with tv, kitchen, shower, toliet, air conditioner
First floor: 2 double rooms each with covered balcony and air conditioner, bathroom, toilet.
Groundfloor: bed-sitting room (2 beds), kitchen with dish washer, living-dinning room with tv, toilet, shower, terrace.
Practically furnished, spacious house with washing-machine, internet, sat-tv gazebo, fenced garden, heating, quiet area. Owner does not live on site. Maximum for 11 persons. (Vonyarcvashegy, Sík u.)
Sizes
floorspace without terrace/balcony ~ 180 m²
garden ~ 650 m²
Nearby
Beach ~ 1800 m
Restaurant ~ 400 m
Shop ~ 550 m
Services
Pets
we welcome pets by appointment (for extra charge)
other
heating (usually for extra costs)
free internet (wireless)
view of lake
clothes-horse
type of telecast
Astra Sat (Germany)
Cable Tv (20+ hungarian, few german, and few other language channels)
garden/outside
bbq
sun beds
garden pavilion
own separate garden
sunumbrella
terrace
covered balcony
car parking
parking place in the garden
Is somebody living in the house / on the site?
only the renter live on site
sleeping facility on sofabed
window-screen/mosquito-net
entry door / balcony door
windows
Equipment
tableware, glasses, cups
toaster
coffee machine
microwave
kettle
fridge
freezer
hob
oven
washing machine
dishwasher
Prices
| Number of persons | Season 1 | Season 2 | Season 3 | Season 4 | Season 5 |
| --- | --- | --- | --- | --- | --- |
| | to 29.05. / from 13.09. | 29.05 - 26.06. / 30.08 - 13.09. | 26.06 - 10.07. / 23.08 - 30.08. | 10.07 - 17.07. / 16.08 - 23.08. | 17.07 - 16.08. |
| 2 persons | 38 Euro/night | 38 Euro/night | 77 Euro/night | 97 Euro/night | 102 Euro/night |
| 3 persons | 48 Euro/night | 48 Euro/night | 77 Euro/night | 97 Euro/night | 102 Euro/night |
| 4 persons | 58 Euro/night | 58 Euro/night | 77 Euro/night | 97 Euro/night | 102 Euro/night |
| 5 persons | 68 Euro/night | 68 Euro/night | 87 Euro/night | 97 Euro/night | 102 Euro/night |
| 6 persons | 78 Euro/night | 78 Euro/night | 97 Euro/night | 107 Euro/night | 112 Euro/night |
| 7 persons | 88 Euro/night | 88 Euro/night | 107 Euro/night | 117 Euro/night | 122 Euro/night |
| 8 persons | 98 Euro/night | 98 Euro/night | 117 Euro/night | 127 Euro/night | 132 Euro/night |
| 9 persons | 108 Euro/night | 108 Euro/night | 127 Euro/night | 137 Euro/night | 142 Euro/night |
| 10 persons | 118 Euro/night | 118 Euro/night | 137 Euro/night | 147 Euro/night | 152 Euro/night |
| 11 persons | 128 Euro/night | 128 Euro/night | 147 Euro/night | 157 Euro/night | 162 Euro/night |
Important
These prices are correct at time of going to print (Prices will not vary from time of booking)
We ask for 30% administration costs of the full price of your stay to secure your booking.
The price includes the following costs: operating costs (except heating), o fresh bed linen, hand towel and bath towel per person every 7 days (except towels for the beach), final cleaning, tourist tax
We welcome pets by appointment.
There will be a minimal extra charge for 1-4 nights (40%, 30%, 20%, 10%), for heating, for pets (6,00 € / night)
Deposit (refundable): 150,00 € / 52.500.- Forint (The deposit is deposited in cash in the office when the keys are handed over and serves as security in the event of damage to the house. The deposit will be refunded in cash at the office on departure).
Payment is requested in Euros, in Forints only at the current exchange rate from the Hungarian National Bank
NTAK no.:
EG20008200/p>
Accommodation type:
private accommodation